Critical munitions shortages can have outsized consequences both on and off the battlefield. During World War I, the shells crisis of 1915 resulted not only in a disastrous defeat for the British at the Battle of Aubers, it also toppled the government. NATO experienced ammunition shortfalls in Libya in 2011. And in 2016, Air Force shortages of precision guided munitions—"empty igloos" – resulted in some partners being turned away in the fight against Islamic State.
Has the United States left itself—and potentially its allies—more vulnerable in supplying Ukraine with many thousands of anti-tank and anti-air weapons? And if so, what would remedy a potential ammunition squeeze, should another large-scale conflict erupt elsewhere in the world?
It's time to shift our industrial base from its peacetime footing. It needs to be expanded—not to a war footing, but to meet the reality of current needs. One fast and effective way the Department of Defense can encourage private industry to expand industrial capacity is by providing secure, forward-facing financial incentives, including the use of multi-year procurement contracts. For example, DoD executes large, multi-year contracts to buy ships, airplanes, armored vehicles, and other large defense programs. It's a strategy that the department should replicate for upcoming munitions as well.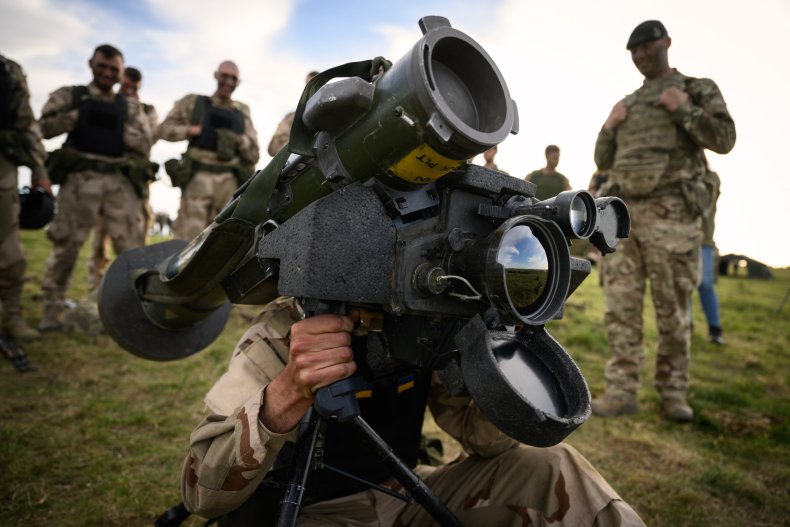 Applying a multi-year procurement block—essentially a unique purchasing mechanism that allows the Department of Defense to order several years' worth of ammunition or equipment under a single contract—to the production of advanced munitions, and especially to the kinds of weaponry the United States would need in a peer-on-peer conflict would give private industry a clear demand signal and allow for better planning for labor, raw material sourcing, and production.
Destroyed tanks. Downed attack helicopters. Dead Russian soldiers. These stark images from Ukraine are familiar by now—I witnessed them firsthand as a journalist for nearly five months on the ground in Ukraine—and proof positive of Western-supplied weaponry's effect on Russian forces.
These advanced weapons—from American-made Javelin anti-tank missiles to the HIMARS long-range rocket artillery system to the various self-propelled artillery pieces donated from European arsenals—have enabled Kyiv to shift out of a defensive crouch and go on a remarkable offensive.
But Ukraine's battlefield successes have depleted reserves of Western munitions, leaving both the United States and Russia vulnerable to the same problem: lack of resources for potential conflicts elsewhere. Unlike Russia, however, the U.S. can more rapidly correct this weakness—if it invests in its defense-industrial base now.
One example is the MGM-140 ATACMS (Army Tactical Missile System). This long-range projectile, launched from the vaunted HIMARS platform, has proven its worth in Ukraine, but stockpiles of the Cold War-era munition will eventually need to be replaced, not by the same model, but by the Precision Strike Missile, a similar though more advanced, longer-ranger range successor.
That replacement missile has not reached full production, however, and the United States will need more missiles soon, whether for the fight in Ukraine or should a large-scale war involving the U.S. break out elsewhere in the world.
The importance of a robust, well-supplied defense industrial base is hard to overestimate—and the risks of not having one are apparent in Russia's difficulty manufacturing ammunition for its war in Ukraine.
Reporting indicates Russia is purchasing rocket and artillery ammunition from North Korea. The revelation is both an indication of the hollowness of Russia's defense industrial base, as well as the prodigious amount of ammunition the country has already expended in Ukraine.
The Soviet armaments industry that Russia inherited is, on paper, enormous: Russia, a great producer and processor of raw materials, has no shortage of steel, brass, aluminum, and other materials that go into the production of ammunition of various kinds.
But what the Russian war machine appears to lack is the raw materials and processing capacity that go into the manufacture of explosive charges for artillery and rocket shells. (This is not to say that Russian artillery and rocket manufacturing has dropped to zero.)
Lower output has also forced Russia to dip into ammunition reserves the Kremlin would otherwise have held for other, non-Ukraine contingencies.
Ukraine is depleting both U.S. and Russian munitions. America can replenish them—if it invests in its military-industrial base—but it must do so quickly. It takes time to replenish stockpiles, and who knows when and where additional weapons may be needed.
Caleb Larson is a multiformat journalist and defense writer based in Berlin. He covers the intersection of conflict, security, and technology, with a focus on American foreign policy and European security. Follow him on Twitter @calebmlarson
The views expressed in this article are the writer's own.
This content was originally published here.
News and Information Picked For You