San Diego is on the map when it comes to the integration of technology into the auto industry, thanks to the work being done at Qualcomm Technologies in Sorrento Valley.
With its suicide doors and futuristic look, the Snapdragon Digital Chassis concept car may have you at "hello" but that's nothing compared with what's under the hood.
"It's the combination of the Snapdragon cockpit platform, our ride platform and our telematics platform," said Robert Yeh who is Qualcomm Technologies' senior director of automotive product management.
We won't get more technical than that, but know that together, those three platforms make up the main driver of the Snapdragon vehicle
"It's going to be a smartphone on wheels," explained Yeh, indicating that the comparison might make it easier to understand the concept behind the technology.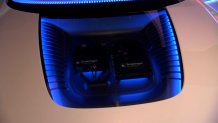 Yeh pointed out the touch screens for the driver and front- and back-seat passengers. Sixteen cameras are used for a real-time navigation rendering experience, which eliminates the need for mirrors. There's also an array of infotainment for everyone in the car: eight total touch screens and 23 speakers.
When Yeh turned on the car, a voice welcomed him by name — straight-up "Knight Rider" vibes.
"As you can see, the vehicle just recognized me, said my name through a facial-recognition app, put on my favorite color scheme — in this case, blue — it's got my seat position, and it's playing my music," Yeh said, pointing to each of these features inside the car.
A whole lot more than bells and whistles in just a few seconds of getting into the car. 
So we have to ask: "How safe is it to have this much technology inside a car when we travel?"
"Cars are becoming much more safe because they're more aware of their surroundings," said Nakul Duggal, who is the senior vice-president and general manager of automotive at Qualcomm. "There is a whole lot of sensing going around the vehicle: cameras, radar."
Cars are becoming much more safe because they're more aware of their surroundings
Duggal added that the industry as a whole is headed more toward driver-assistance technology and not so much toward self-driving vehicles.
"A feature that automakers are starting to introduce is monitoring of the driver: Is the driver distracted? Is the driver drowsy? Is he impaired in any way? Can the driver take over and bring the vehicle to a halt carefully?"
Duggal said that the concept car showcases how an automaker could have a more personal relationship with the driver and allow certain transportation and delivery companies to have better management of their vehicles. He added that Qualcomm is proud to represent San Diego as the company enters the auto industry via an existing international network of partners and customers. Not as automakers, to be clear, but as drivers of technology merging more and more into future vehicles.
"What we are doing here is affecting the global automotive ecosystem," Duggal said. "We are now participating, really, across the world."
Now, to be clear, Qualcomm is not becoming an automaker itself, but, rather, it will sell its system to automakers, which would include it in future vehicles they design and manufacture.
Cadillac rolled out some of Qualcomm's technology in its 2023 Lyriq. At least seven other automakers have signed on to incorporate the full chassis or certain components of it into future models.
This content was originally published here.
News and Information Picked For You