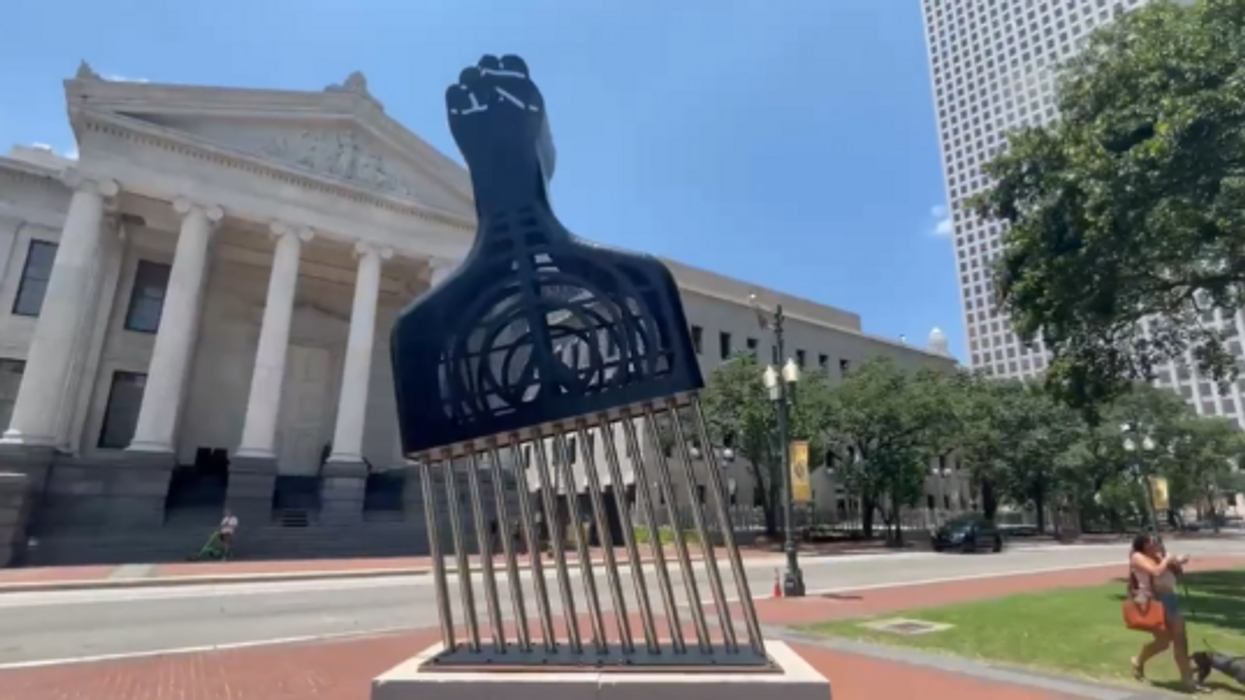 A giant Afro hair pick with a clenched "black power" fist was unveiled in New Orleans on Friday in celebration of Juneteenth – the holiday paying tribute to the last American slaves being freed. However, the eyebrow-raising statue was widely panned online.
The 28-foot-tall hair pick weighing 7,000 pounds is titled "All Power to All People," and was created by artist Hank Willis Thomas.
New Orleans Mayor LaToya Cantrell – a Democrat – touted the hair pick statue as "breathtaking" on Twitter.
"As Juneteenth approaches, we celebrated with an unveiling in Lafayette Sq," Cantrell tweeted. "This sculpture is very fitting for this time & place as we celebrate the freedoms that we have gained We know that it doesn't come without struggles, fights, and protests for 200+ years."
Cantrell said the city is spending $7.2 million to recognize "local black and brown artists," and their artwork would be displayed around public buildings in New Orleans.
— Mayor LaToya Cantrell (@Mayor LaToya Cantrell)
1655494988
\u201cFurthermore, in recognition of our local black and brown artists, we have dedicated $7.2 MILLION in bond funding to public art\ud83d\udca5\n\n\u27a1\ufe0fIn addition, we have already purchased over 60 pieces of artwork created by local Black artists to be displayed in our public buildings\ud83d\udc4f\ud83d\udcaf\u201d

— Mayor LaToya Cantrell (@Mayor LaToya Cantrell)
1655484412
\u201cSearch for the story on https://t.co/ePBMG6NNcM: Two-story Black power hair pick, symbol of African identity, erected near Gallier Hall\nNew Orleans Mayor LaToya Cantrell calls temporary addition to city\u2019s streetscape \u201cBreathtaking.\u201d Sculpture by Hank Willis Thomas.\u201d

— Doug MacCash (@Doug MacCash)
1655592996
However, not everyone saw the gigantic hair pick as "breathtaking" in reactions on Twitter – including many black Americans.
"Fearless" host Jason Whitlock: "Imagine being mayor of a major city, spending money on a monument that depicts the accomplishments of black people, and deciding on a hair pick. They would recall a white mayor for demeaning us. Instead, we'll shout 'Yaass Queen' and pretend nothing is wrong."
Author Darrell B. Harrison: "Because we all know how important it was for my ancestors to keep their afros lookin' tight during those 'struggles, fights, and protests.'"
The Hodge Twins: "The best their artists could come up with is a Black Power hair pick sculpture. You can't fix stupid."
Former congressional candidate Barrington Martin II@_BarringtonII: "Embarrassing. This is sick."
Singer Vinnie James: "These Democrats posed in front of a giant AFRO PICK? An AFRO PICK? This is how they celebrate the freedoms black people have gained? I'm in hell. Right?"
Writer Rod Dreher: "The City of New Orleans just unveiled a giant sculpture of an Afro pick. This is a joke, but it's not supposed to be. How humiliating for a city that has given humanity so much great culture."
Writer Ellen Carmichael: "As New Orleans' infrastructure crumbles and innocent people are being gunned down daily, Mayor LaToya Cantrell unveils a giant 'black power' hair pick in historic Lafayette Square. Her awful leadership is absolutely devastating for those with a history and love for this city."
Many online commentators noticed that the statue resembled the large Afro hair pick in the comedy movie "Spaceballs."
\u201c@mayorcantrell Major Spaceball\u2019s vibes here.\u201d

— Mayor LaToya Cantrell (@Mayor LaToya Cantrell)
1655494988
Last week, Cantrell unveiled a "Peace Poll" that was sponsored in part by the Tupac Amur Shakur Foundation – an organization associated with the former rapper.
\u201cThis afternoon, the City through the Department of Parks & Parkways in collaboration with the Tupac Amur Shakur Foundation, Tulane University, & the New Orleans Jazz Orchestra hosted a ribbon cutting of the newly installed Peace Pole to help foster peace in our communities\ud83d\udc9b\u269c\ufe0f\u201d

— Mayor LaToya Cantrell (@Mayor LaToya Cantrell)
1655323676
This content was originally published here.